Learning Point of the Article :
To understand the characteristic features and differentials to facilitate correct diagnosis and management of Diaphyseal Enchondromas presenting with aggressive radiological features.
Case report | Volume 13 | Issue 07 | JOCR July 2021 | Page 6-11 | Keerthan Ranga Nayak[1], Mahesh Suresh Kulkarni[1], Sandeep Vijayan[1], Sharath Kumar Rao[1]. DOI: 10.13107/jocr.2021.v11.i07.2292
Address of Correspondence:
Dr. Sandeep Vijayan,
Additional Professor, Department of Orthopaedics, Kasturba Medical College Manipal,
Manipal Academy of Higher Education, Manipal, Karnataka, India.
E-mail: sandeep_vijayan@yahoo.co.in
Click here to read similar articles from PubMed
Introduction: Enchondroma is a solitary, benign, intramedullary cartilaginous tumor commonly noticed in the phalanges of hands and feet with characteristic radiological features. Its occurrence in aberrant sites with atypical features lead to diagnostic dilemma. Enchondromas which are usually managed non-operatively can mimic other benign and malignant lesions, especially chondrosarcoma.
Case Report: We report the case of a 31-year-old farmer who presented with long standing inconspicuous pain in his left leg which turned out to be a diaphyseal enchondroma even though it demonstrated aggressive radiological features mimicking a chondrosarcoma. Incisional biopsy was done from the scalloped areas to obtain the correct histological diagnosis. He underwent thorough curettage of the lesion and remains asymptomatic 2 years after the procedure. We attempt to discuss the differentials which the orthopedic surgeon should keep in mind for diaphyseal lesions mimicking enchondroma.
Conclusion: Though classically found in metaphysis, Enchondromas are not uncommon in diaphysis of long bones. Enchondromas are generally benign, but can cause diagnostic dilemma when they present with aggressive features at rare locations and surgeons should be wary of the differentials. Despite a size of more than 6 cm and evidence of cortical erosion and intramedullary widening, the lesion could still be benign. Early biopsy will help to differentiate Enchondroma from a malignant transformation or malignant tumor.
Keywords: Enchondroma, chondrosarcoma, diaphysis, multilocular, endosteal scalloping, chondroma.
Introduction
Enchondroma, also known as Chondroma, is composed of mature hyaline cartilage and arise from residual cartilaginous rests that gets displaced from the growth plate and are trapped in the intramedullary canal [1, 2, 3]. Classical enchondromas are located in a central or eccentric position in the metaphysis (71%) or metadiaphysis (21%) and majority (72%) are within 1.5 cm from the growth plate [2, 4, 5]. Even though, it may be seen inside any bone formed by enchondral ossification, it is considered as the most common primary bone tumor in hands and feet (>50%). Among the long bones, it is reported to occur more frequently in the proximal metaphysis of humerus and distal metaphysis of femur (2.0%) [6]. Rarely, it can occur in the proximal metaphysis of tibia (0.7%), fibula (0.2%) or in flat bones such as pelvis and ribs. Enchondromas have characteristic clinico-radiological features which help in easy identification. However, its occurrence at uncommon sites or with atypical features leads to diagnostic dilemma. We report a case of Enchondroma in the tibial diaphysis with atypical features with respect to location and clinico-radiological findings. We discuss the characteristic features of Enchondroma and compare them with similar lesions which could help clinicians to diagnose correctly.
Case Report
A 31-year-old-farmer came for a casual evaluation with inconspicuous pain over left leg of 2 years' duration. Pain was the intermittent, dull aching and non-radiating. Patient noted mild non-progressive swelling in the area of pain since 3 months which made him come for the consultation. There was no history of trauma, similar swellings in other parts of body, fever, loss of weight, or comorbidities. Skin over the anterior aspect of the left tibia appeared normal on inspection (Fig. 1a). There was no local warmth, but tenderness and irregularity on the anterior aspect of left tibia was noted with normal range of movements of knee and ankle joints and intact distal neurovascular status. Blood investigations were normal. Anteroposterior and lateral radiographs of the left tibia showed multiloculated lytic lesion of about 7 × 3 cm with sclerosed margin, intermingled with areas of cortical thickening, expansion and destruction, and doubtful intralesional calcification in the diaphysis of tibia (Fig. 1b). However, no periosteal reaction or cortical breach was observed. Magnetic resonance imaging (MRI) showed well-defined intramedullary cystic lesion with moderate scalloping of cortex (Fig. 1c, d, e). It also reported focal geographic area of marrow replacement on T1-weighted images and corresponding high signal intensity on T2-weighted images with lobular margins.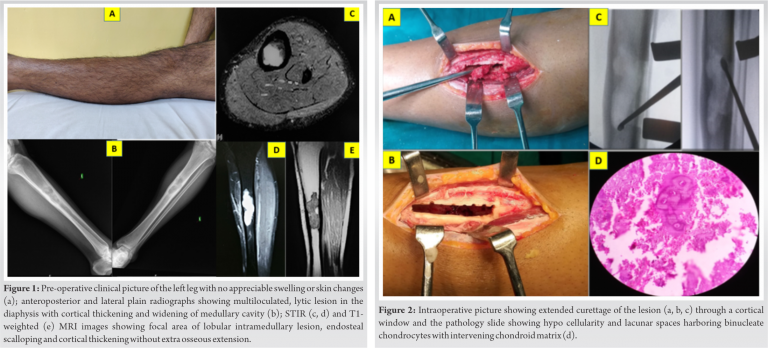 Due to the lytic lesion with cortical thickening, erosion, intralesional calcification, moderate scalloping and diaphyseal location we thought of chondrosarcoma, Adamantinoma and Garre's osteomyelitis. Since the lesion appeared active and to obtain a proper diagnosis, the patient underwent an incisional biopsy from the scalloped region by an anterolateral approach. As the pathologist gave the diagnosis of Enchondroma, the case was further discussed in the tumor board meeting. Despite the aggressive radiological features, as the biopsy specimen did not show any evidence of chondrosarcoma, we went ahead with an extended curettage of the lesion through a 4 cm long cortical window (Fig. 2a, b, c). Since the lesion was large and had the risk of developing pathological fracture, he was advised to undergo bone grafting along with the curettage. However, he declined for the additional procedure. The gross biopsy specimen appeared greyish brown. Microscopy showed hypocellular chondroid lesion composed of lacunar spaces showing uni-nucleated chondrocytes with small dense nuclei, inconspicuous nucleoli and scant eosinophilic cytoplasm, and occasional bi-nucleated cells with intervening chondroid matrix and focal calcification. Tumor lobules were rimmed by trabeculae of lamellar bone with enclosed marrow showing lymphocytes and plasma cells. No mitotic activity or necrosis was seen (Fig. 2d). Patient started full weight bearing walking without support after 8 weeks of partial weight bearing. He was kept under regular follow-up and at 2 years after the curettage, he remained asymptomatic with no evidence of local recurrence nor distant metastasis (Fig. 3a, b, c).
Discussion
In this unique case, we report the presentation of an atypical enchondroma in the diaphysis of tibia in a young male, which is an uncommon site for occurrence in long bones. Despite the large size of the lesion, the patient underwent only curettage and recovered completely. Enchondroma, which derives its name due to the intramedullary origin is often solitary, though multiple enchrondromatosis may be associated with Ollier's disease or Maffucci's syndrome [7]. It accounts for approximately 5% (3–10%) of all bone tumors and 17% (12–24%) of benign bone tumors [8]. It is only second to osteochondroma in frequency. It has no gender predilection and commonly occur in the second decade of life with majority of patients within the 30 and 35-year age group. Our patient also belonged to the susceptible age group. Even though, it can arise sporadically, somatic mutation in isocitrate dehydrogenase (IDH) – 1 and 2 genes have been linked to its occurrence. IDH is an enzymatic component of tricarboxylic acid and mutation in the gene can lead to malfunction and accumulation of D-2-hydroxyglutarate which ultimately leads to inhibition of osteogenic differentiation of mesenchymal stem cells [2, 7].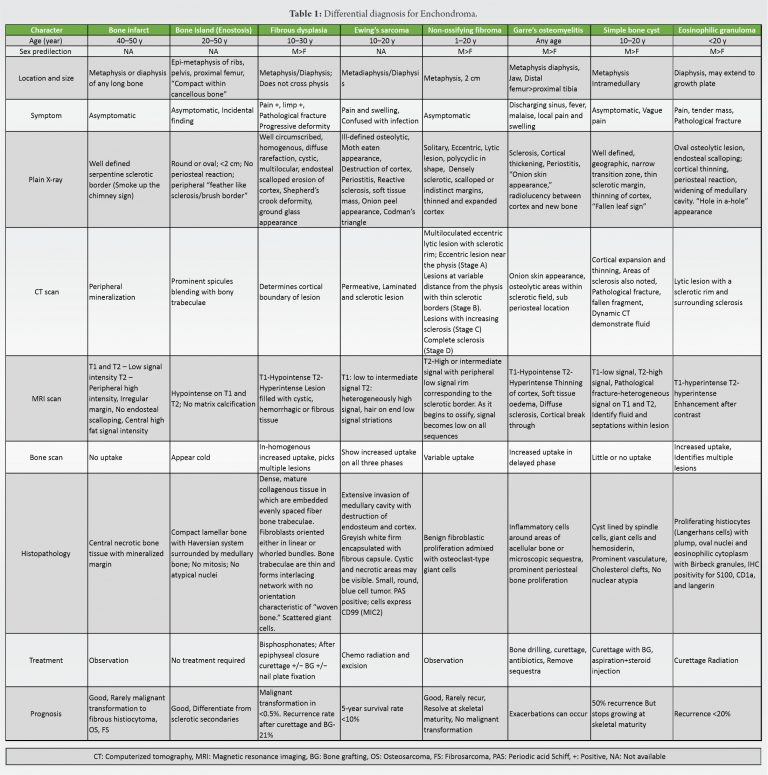 Most enchondromas are asymptomatic and are picked up incidentally on routine imaging studies. They occasionally cause pain (in around 35% patients) or swelling in the long bones. Our patient had pain over the leg for nearly 2 years and it was only after he noticed some swelling that he thought of seeking medical opinion. However, if the lesion occurs in the small bones of hand and feet or when there are multiple lesions, it can expand and lead to pathological fractures [9]. Rarely, an enchondroma can extend through the cortex and present as an exophytic growth. They are known as enchondroma protuberans and are usually seen sporadically or as part of Ollier's disease [1]. Although characteristic signs to diagnose enchondroma are noted on radiographs, there are overlap of some features with certain diseases and they need to be differentiated from chondrosarcoma, bone infarcts, bone islands, Garre's sclerosing osteomyelitis, eosinophilic granuloma dysplasia and solitary bone cyst (Tables 1, 2) [1, 2, 3, 4, 5, 10, 11, 12, 13].
Conclusion
Although classically found in metaphysis, enchondromas are not uncommon in diaphysis of long bones. Enchondromas are generally benign, but can cause diagnostic dilemma when they present with aggressive features at rare locations and surgeons should be wary of the differentials. Despite a size of more than 6 cm and evidence of cortical erosion and intramedullary widening, the lesion could still be benign. Thorough intralesional curettage would suffice in successfully clearing the atypical enchondromatous lesion.
Clinical Message
Enchondromas which are generally located in the metaphysis, measuring <5 cm in size and having less than two-third endosteal scalloping can occasionally present as larger lesions with extensive scalloping and periosteal reaction. This should raise the suspicion of chondrosarcoma and biopsy to collect the representative aggressive tissue must be taken from the scalloped area to differentiate the two.
How to Cite This Article: Nayak KR, Kulkarni MS, Vijayan S, Rao SK. Enchondroma in the Diaphysis of Tibia – A Case Report and Review of its Characteristics and Differentials in the Diaphysis. Journal of Orthopaedic Case Reports 2021 July, 13(07): 6-11.
Dear Reader, We are very excited about New Features in JOCR. Please do let us know what you think by Clicking on the Sliding "Feedback Form" button on the <<< left of the page or sending a mail to us at editor.jocr@gmail.com
RELATED POSTS