Learning Point of the Article :
Conventional osteosarcoma can be presented in rare cases as a benign bone cyst tumor called pseudocystic osteosarcoma.
Case report | Volume 13 | Issue 08 | JOCR August 2021 | Page 75-78 | Naoki Ishida [1]. DOI: 10.13107/jocr.2021.v11.i08.2374
Address of Correspondence:
Dr. Mahmoud Smida,
Department of Traumatology, KASSAB Institute, Manouba, Tunisia. E-mail: mahmoud.smida@yahoo.fr
Click here to read similar articles from PubMed
Introduction: Pseudocystic osteosarcoma (OS) is an uncommon variant of conventional OS. Clinical and radiological features are presented as benign process with a non-rapid growth rate. Treatment may be adversely affected by the delay in diagnosis or an appropriate invasive procedure.
Case Presentation: We report a rare case of pseudocystic OS of the distal femur in a 6-year-old boy. Imaging findings revealed an osteolytic intra-compartmental tumor, that suggested either simple bone cyst or subacute osteomyelitis. The patient was first operated by lateral approach for curettage but histopathology showed conventional OS. Treatment had been managed by standard current chemotherapy and trans-epiphyseal intercalary resection through lateral approach. Reconstruction was done by a non-vascularized autograft within the induced membrane technique. At 3 years of follow-up, the patient remained disease-free with good anatomical and functional results.
Conclusion: conventional OS can be presented in rare cases as a benign bone cyst tumor. This type of pseudocystic OS should be included in the differential diagnosis of bone cyst tumors and pseudo-tumors.
Keywords: Osteosarcoma, pseudocystic, surgery, reconstruction.
Introduction
Osteosarcoma (OS) is the most commonly diagnosed primary malignant bone tumor with a worldwide incidence of 3.4/million people/year [1, 2]. The radiological appearance of OS is usually that of an aggressive destructive lesion with a mixed osteolytic and sclerotic pattern and an associated periosteal reaction and soft-tissue mass [3, 4]. OS, however, may show considerable variability in its radiologic and histologic appearances and might be misdiagnosed [5]. Purely osteolytic lesions are uncommon and account for only approximately 10% of cases, and these are usually telangiectatic, fibroblastic, malignant fibrous histiocytoma-like, giant cell-rich, or low-grade OSs that occur in the elderly [6, 7]. We present a case with osteolytic intracompartmental tumors without any associated periostal reaction or soft tissue mass that suggested either simple bone cyst or aneurysmal bone cyst but microscopically proved to be conventional OS.
Case Presentation
A 6-year-old girl from neighboring country consulted a local physician with a major complaint of left knee pain lasting for 3 months. There was neither fever nor biological inflammatory syndrome. On radiographs, there was a large multilocular and well-demarcated osteolytic lesion in the distal dia-metaphysis of the femur with sclerotic margins, endosteal scalloping, and no periosteal reaction (Fig. 1a). On lateral radiographs, there was a transverse fracture with soft callus formation (Fig. 1b). This lesion was initially interpreted as simple bone cyst and on follow-up as sub-acute osteomyelitis. The girl was then operated without further imaging.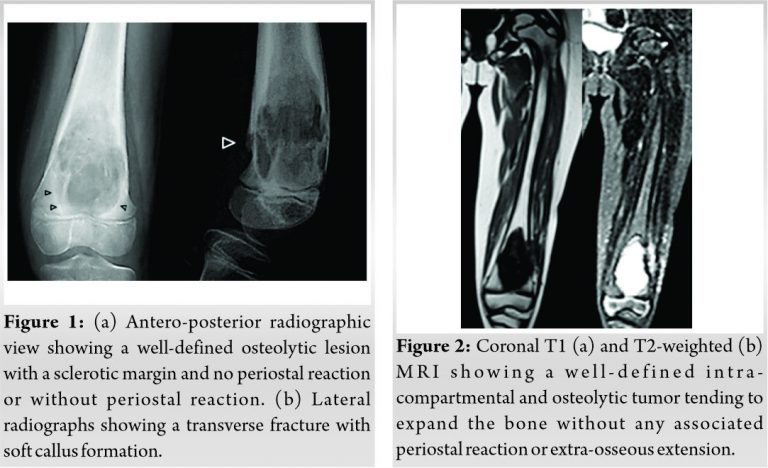 By operating the patient through a lateral approach, the surgeon found tumor tissue which he biopsied. The histological diagnosis was conventional OS and the patient was referred to our institute. Magnetic resonance imaging showed a well-circumscribed intra-compartmental and osteolytic tumor tending to expand the bone without any associated periostal reaction or extra-osseous extension (Fig. 2). Furthermore, there was a slight crossing of the growth plate by the tumor. Pulmonary CT scan and bone scintigraphy did not show metastases.

The patient underwent surgery and tumor resection after neoadjuvant chemotherapy including cisplatin, doxorubicin, and high-dose methotrexate. She was operated in a two stages procedure within the induced membrane technique [8]. Initially, en-bloc interclaray resection was performed through lateral approach with epiphyseal preservation. The distal femoral osteotomy was trans-epiphyseal and 2 mm from the epiphyseal invasion (Fig. 3, 4).

Polymethyl methacrylate spacer was used for bone reconstruction and initial stabilization was obtained using a 95-angled blade plate (Fig. 5a). The length of the bone defect after resection was 14 cm. Histological study of the resected specimen showed a cystic tumor with safe surgical margins and good response to chemotherapy (3% viable cells). Furthermore, it confirmed the diagnosis of high-grade conventional OS. Final diagnosis was pseudocystic OS.

One year later after postoperative chemotherapy, a non-vascularized autograft (two fibulas and cancellous iliac graft) was done (Fig. 5b, c). Bone union was achieved 9 months later without complications and the patient had recovered a good function. At 3 years of follow-up, the patient was alive without disease. A lower limb length discrepancy of 3 cm was observed with knee mobility from zero to 90°. According to the Musculoskeletal Tumor Society functional scoring system [9], she had a score of 27 points. On radiographs, the bone graft had completely healed (Fig. 6).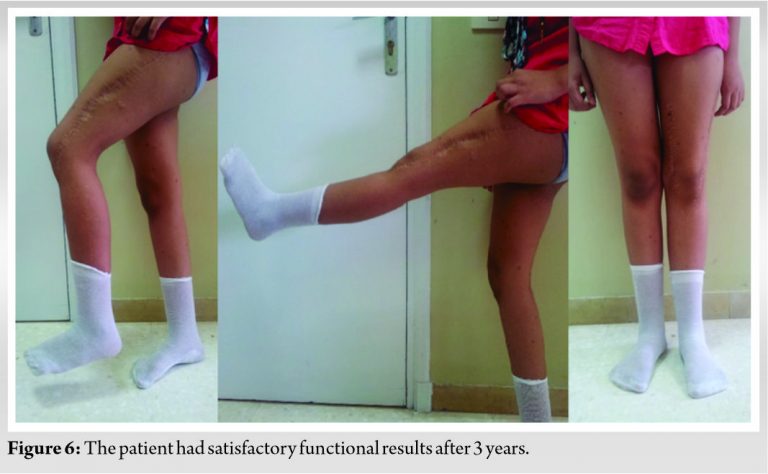 Discussion
OSs are the most common non-hematologic primary malignant tumors of bone in adolescents and young adults, comprising about 15% of all primary bone tumors [1]. Most conventional OS has a mixed lytic and sclerotic radiographic pattern, reflecting the type of tissue or matrix in the tumor. Purely osteolytic lesions are uncommon, accounting for approximately 10% of all patients and usually encompassing the fibroblastic, fibrohistiocytic, telangiectatic, or giant cell-rich forms of the tumor [5]. Pseudocystic OS is an extremely rare variant of central high-grade OS and was first described by Sundaram et al. [6]. These authors published four cases with radiological features similar to our case: intra-compartmental location of the tumor, a purely osteolytic pattern, and absence of a periosteal reaction or soft-tissue mass. Simple bone cyst and aneurysmal bone cyst were the primary radiological diagnoses in all of their cases. In our case, the lesion was interpreted as subacute osteomyelitis. Three of the tumors described by Sundaram et al. [6] were conventional OS, like in our case. In the other patient, histopathological analysis revealed an aneurysmal bone cyst. However, when this patient returned with pulmonary metastases, the re-biopsied tissue showed not only features identical to those in the original biopsy sample but also small areas of conventional OS. In all cases, OS was misdiagnosed as benign tumor. Only histopathological assessment revealed the malignant nature of the tumor. Apart from the radiological features, the localization was atypical and misleading in two cases of Sundaram et al. [6]: femoral head and neck, and tarsal navicular bone. In fact, location of OS in the femoral head and neck is distinctly uncommon, constituting <1% of all OS [10]. In foot bones, OS is also an exceptional occurrence with a mean of 0.8% [4]. Furthermore, the age was uncommon in three patients of Sundaram et al. [6] (3, 7, and 34 years). In fact, the peak age incidence is usually from 15 to 20-years-old [4]. Our patient was younger than 10-years-old. Once the tumor is removed, the bone must be reconstructed [11]. Reconstruction can be achieved using a vascularized fibular graft and/or a segmental allograft, an extra corporally irradiated autograft, bone transport, chondrodiastasis, or a reconstruction prosthesis. All these techniques are associated with complications [11]. The induced-membrane technique developed by Masquelet et al. [8] allows two-stage construction of long bones and has produced good outcomes in patients with bone defects due to trauma, infection, or after bone malignancy resection in children. This technique has several advantages: – Reconstruction of segmental bone defects >15 cm is feasible, improving the chance of full tumor resection.
– Reconstruction is quick and safe without specialized equipment required, reducing the risk of long-term complications.
– Independently from the resection time, surgeons with varying experience can perform this easy procedure with its short reconstruction.
– Moreover, the weight-bearing after the first stage is early.
However, the implantation of a bone graft in the second stage is best delayed until adjuvant chemotherapy is completed, as chemotherapy agents have adverse effects on osteoblasts and induce neutropenia, which increases the risk of infection [12, 13]. The primary complication reported for induced membrane technique was fracture of the reconstructed bone with large size of defects [13, 14]. Another reported complication is massive graft resorption after femur reconstruction [14]. In our case, we have used this technique successfully without any complication and with good functional results at 3-years follow-up. This follow-up is short to detect late complications, which may arise in OS survivors. These patients should be controlled with longer follow-up.
Conclusion
The pseudocystic OS type further expands the histopathological spectrum of OS, and highlights their diagnostic difficulties. Even when biopsy tissue is obtained, an accurate diagnosis might not be attained because sampling errors and misinterpretation of histological findings can still occur which can lead to delay in diagnosis and inadequate treatment. Pseudocystic OS with its radiological characteristics represents a potential diagnostic pitfall, especially in very young patient. It should be included in the differential diagnosis of bone cyst tumors.
Clinical Message
Pseudocystic OS is an extremely rare variant of central high-grade OS. Clinical and radiological features are presented as benign process with a non-rapid growth rate. Treatment may be affected by the delay in diagnosis or an appropriate invasive procedure. Metastasis can arise, making it more difficult to treat. Like in all types of high-grade OSs, the management should be multidisciplinary.
How to Cite This Article: Abcha O, Ammar A, Saleh MHB, Smida M. Pseudocystic Osteosarcoma: A Potential Diagnostic Pitfall – Case Report. Journal of Orthopaedic Case Reports 2021 August, 13(08): 75-78.
Dear Reader, We are very excited about New Features in JOCR. Please do let us know what you think by Clicking on the Sliding "Feedback Form" button on the <<< left of the page or sending a mail to us at editor.jocr@gmail.com
RELATED POSTS